Mini band / Exercise resistance loop Band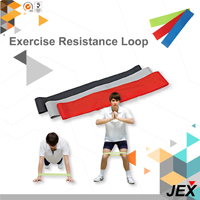 Product ID: J-E-182
Fitness Mini Bands are the ideal home workout and mobility accessory
They are also excellent for physical therapy and recovery work.
These loop bands help increase mobility and are essential in strengthening legs, hips and glutes.
Specifications:
Color: Black/Red/Grey
Dia: 60 cm
Width: 5cm
Thickness: 1.0mm
10 PCS/Set
Features:
Can be used anywhere – on the field, at home, in the clinic or gym, or even when traveling.

Effective for both upper and lower body training.

By using resistance bands for dynamic warmup, you can target the hip and shoulder complexes.

When used in conjunction with other exercises these band sequences can help activate the core as well as prime movers, synergists and stabilizers in the hip and shoulder area.
Order Information:
Minimum Order: Negotiable
FOB: Kaohsiung/Taiwan
Hot Products